Good Morning Method
Start heating some water in your kettle.

OATS. Put a unit of oats of either kind in your pan. Add a generous pinch of salt.

GOODIES. Add any optional items: dried cherries, raisins, hemp seeds, sunflower seeds, flax seeds, chopped nuts, a dried prune, et cetera, but not too many goodies!
WATER. Add boiling or hot water:
One C water for ⅓ C Steel Cut Oats.
⅔ C Water for ⅓ C Quick Cooking Oats.
For any unit of Steel Cut Oats, use 3x units water.
For any unit Quick Cooking Oats, use 2x units water.
COOK. Stir to get any air out of the oats. Bring back to boil for a couple minutes. Turn heat down to LOW for a couple more minutes. Turn OFF the heat, cover with the lid, and let it cook.
EAT. Put it in a bowl. Add brown sugar and cream. Slurp it up. Chew your food well.
---
Bob's Red Mill recommends 10-20 minutes total for their Steel Cut Oats, and 5-7 minutes total for Quick Cooking Oats. You can cook Steel Cut Oats the night before to reduce the time needed in the morning.
---
Night-Before Alternative
Just bring your mix to a boil for a little while when you can be in the kitchen to keep an eye on it (like doing dishes or clean up). Then just turn it off and cover it with lid. The heat in the pan and water will continue to cook the oats just right, allowing them to absorb the hot water. Leave on stovetop overnight.

Update 2018: I turn off the flame after it starts bubbling nicely, then turn off the burner and cover the pot and lid with a felt cap cozy. This holds the heat in for a long time, allowing it to continue to cook without more heat. (The pot is a 1 QT FARBERWARE 18/10 Stainless Steel with impact bonded even heat distribution bottom (aluminum core), and a glass top. It has a little 'heat capacity' if you know what I mean.)

In the morning, break it all up in the pan, add a splash of water and re-heat on low while you get ready for the day. You can always turn the burner off and let it sit till you are ready to eat. Duh.
Apple Alternative
Cut up half an apple and the pieces to the cooking mixture in the evening. Wait till the cereal starts bubbling again before turning it off for the night.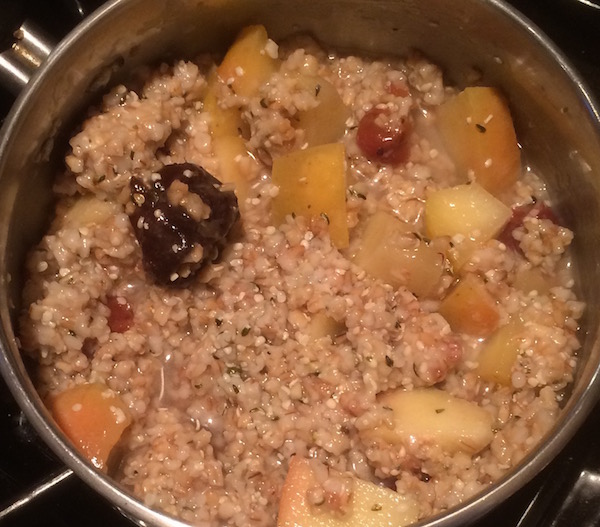 Warnings!
Do NOT tightly cover it while you are boiling, or re-heating on low — it'll get all bubbly, bubble over and make a fine Scottish Mess.

Don't try to re-heat in the AM without breaking it up first. It may explode. This danger is reduced when apple chunks are added as they provide natural fault lines.
Boiling Water (duh)
Since I originally wrote this, I got an electric speed kettle which quickly boils water, then idles. This helps simplify the process, as previously the kettle-on-gas-range had to be closely monitored, not boiled dry, etc..
Steel Cut vs Rolled vs Quick-Cooking vs Scottish
Rolled oats give a softer mushy disgusting texture. I prefer the chewier nuttier results that the cut oats give. The Quick Cooking Oats are a nice compromise. I've read that you can pan-toast rolled oats to give them a better flavor and more interesting texture.

Bob's Red Mill also makes a Scottish Oatmeal, but Bob's millers changed years ago to a much too fine mill, in my opinion (and Bob's too) but he let them do it. It just makes PORRIDGE MUSH! They won their recent Golden Spurtle award using steel cut oats! Duh. You can watch Bob talk about his Scottish Oatmeal on his YouTube channel.